Powered by Ampere, NVIDIA's 2nd gen RTX architecture, GeForce RTX 30 Series graphics cards feature faster 2nd gen Ray Tracing Cores, faster 3rd gen Tensor Cores, and new streaming multiprocessors that together bring stunning visuals, faster frame rates, and AI acceleration for gamers and creators.
GeForce RTX 30 Series GPUs also feature several world firsts: they're the first gaming-class graphics cards with up to 24GB of new, blazing-fast GDDR6X VRAM; they're the first GPUs with HDMI 2.1, for 4K and 8K high refresh gaming; they're the first discrete GPUs with support for the AV1 codec, enabling you to watch high-resolution streams using significantly less bandwidth; and our Founders Edition cards are the first with innovative dual axial flow through cooling solutions.
And of course, GeForce RTX 30 Series GPUs come packed with new technologies for esports competitors, livestreamers, creators, and gamers alike – NVIDIA Reflex reduces system latency, providing split-second PC gaming responsiveness; NVIDIA Broadcast turns any room into a home broadcast studio with AI-enhanced video and voice comms; updates to NVIDIA DLSS make 8K HDR gaming a reality on the GeForce RTX 3090 graphics card; and new NVIDIA Studio enhancements make creative applications run faster than ever before.
For the complete rundown on the world's most powerful gaming graphics cards keep on reading, and be sure to check out the full GeForce RTX 30 Series video presentation from NVIDIA CEO, Jensen Huang:
GeForce RTX 30 Series Graphics Cards: The Essential Specs
| | | | |
| --- | --- | --- | --- |
| | GeForce RTX 3090 | GeForce RTX 3080 | GeForce RTX 3070 |
| CUDA Cores | 10,496 | 8,704 | 5,888 |
| VRAM | 24 GB GDDR6X | 10 GB GDDR6X | 8 GB GDDR6 |
| Prices Starting At | £1,399 | £649 | £469 |
| Release Date | September 24 | September 17 | Available October |
Partners from around the world, including ASUS, Colorful, EVGA, Gainward, Galaxy, Gigabyte, Innovision 3D, MSI, Palit, PNY and Zotac, will have custom cards on shelves alongside NVIDIA Founders Edition models. And select cards sold by participating retailers come bundled with Watch Dogs: Legion and a 1-year GeForce NOW Founder's Subscription. Learn more here.
GeForce RTX 30 Series Founders Edition Graphics Cards
Our Founders Edition GeForce graphics cards feature excellent cooling and stunning designs that make your PC a striking showcase. For our new GeForce RTX 30 Series, we've created an innovative dual axial flow through cooling solution, featuring two fans – one at the left front, and another on the right rear that draws air through the card (the GeForce RTX 3070 flow through design differs slightly, with its fans both mounted on the top of the card).
As heat is drawn away from components into the hybrid vapor chamber, it is efficiently distributed across the length of the card and throughout the massive aluminum fin stack. The left fan pushes air heated by the fin stack out through extra-large GPU bracket vents, while the right fan draws the air towards the top chassis exhaust.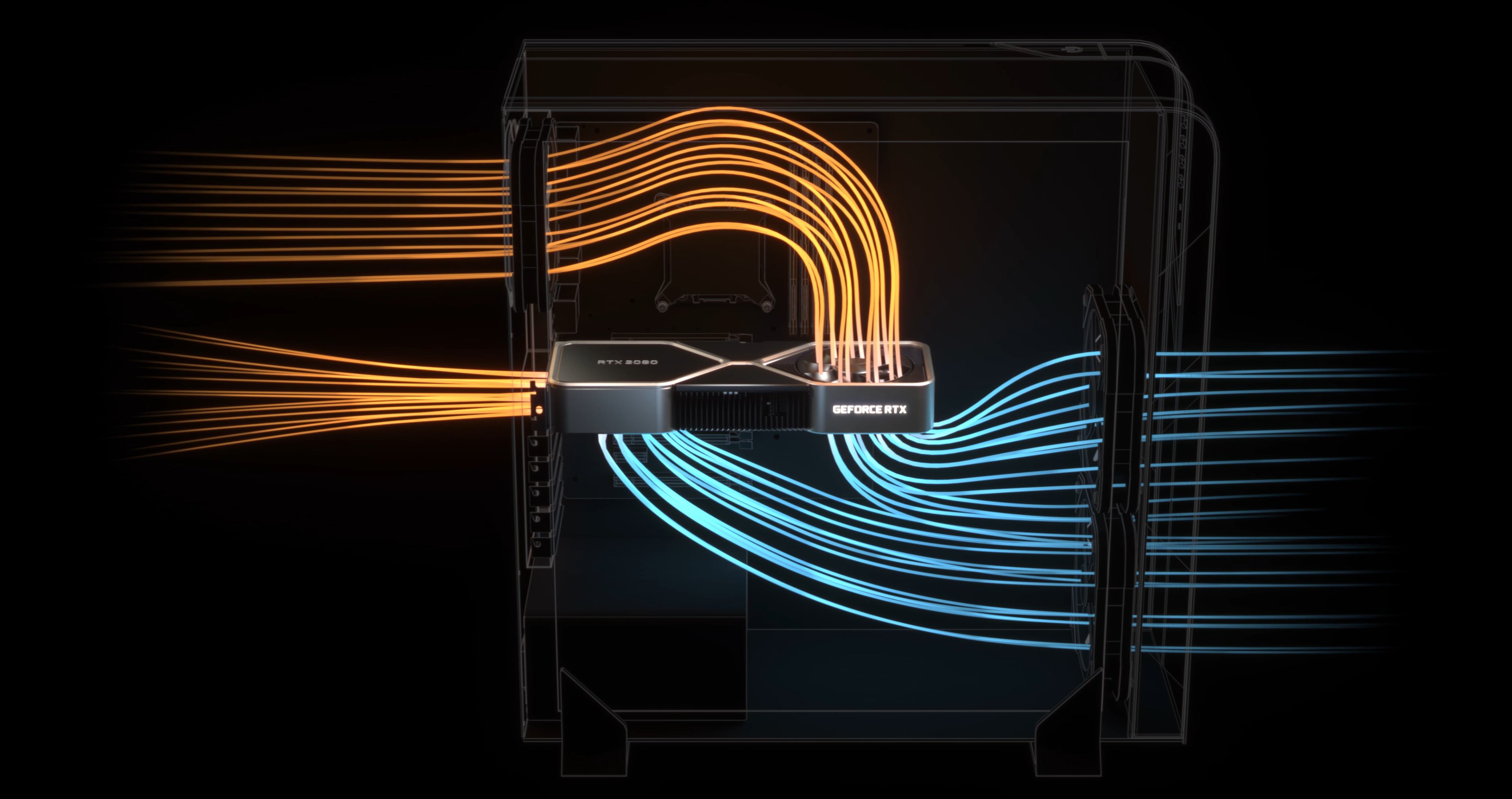 Ordinarily, GPU circuit boards (PCBs) are the length of the graphics card. To insert a full-sized fan in the rear of the card we had to get creative! To that end, our engineers designed a much smaller PCB, shrank the NVLink and power connectors, and still managed to pack in 18-phases for improved power delivery. Don't worry, we included an adapter that allows Founders Edition cards to work with users' existing power supplies..
These changes, among others, gave us the space to chop a large fan-sized chunk from the PCB, giving our dual axial flow through cooling solution plenty of space to breathe.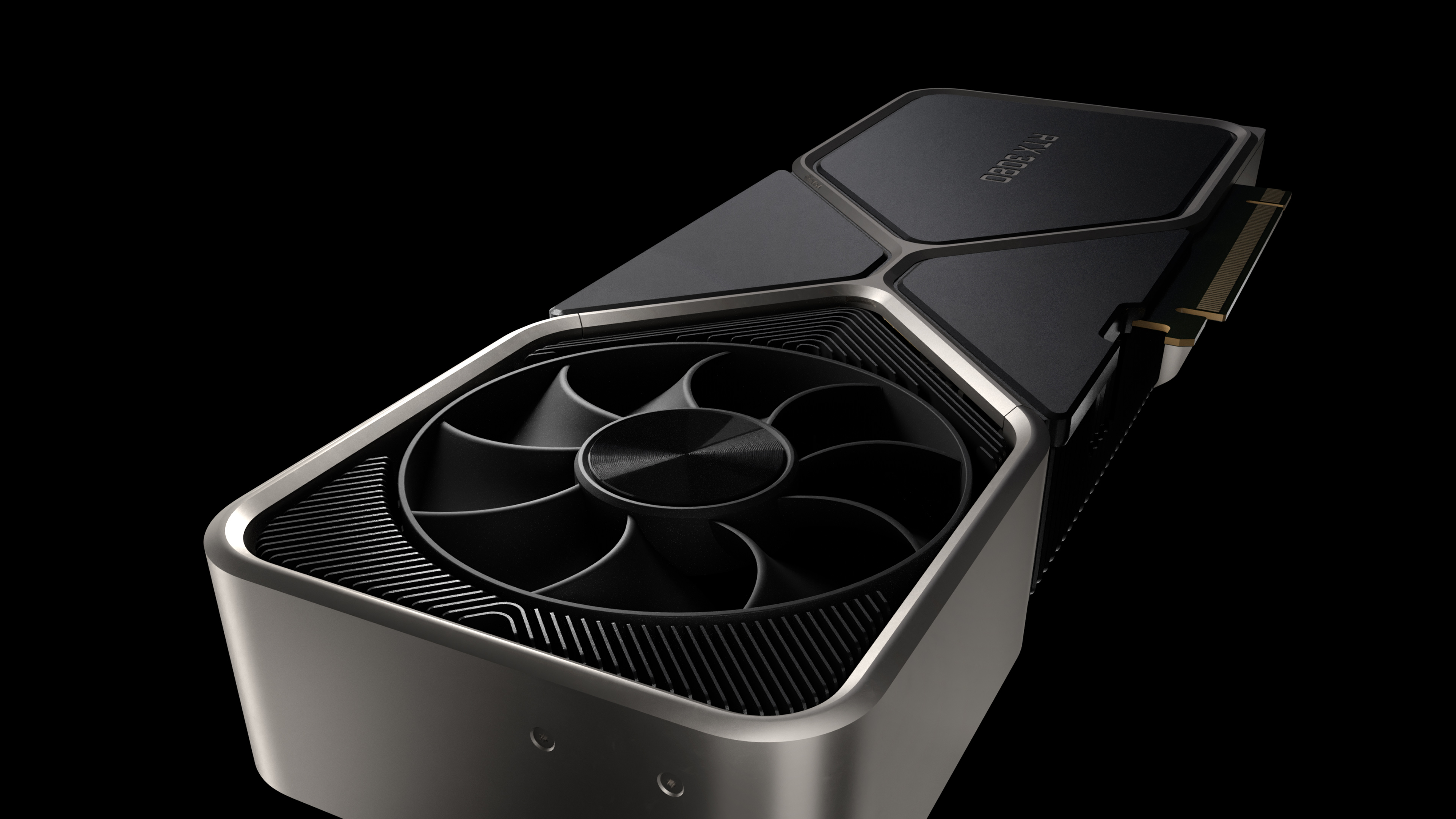 Acoustically, the new Founders Edition design is quieter than traditional dual axial coolers, while still delivering nearly 2x the cooling performance of previous generation coolers. The aforementioned NVLink and power design changes help here, creating more space for airflow through the largest fin stack seen to date, and the larger bracket vents improve airflow in concert with individually shaped shroud fins. In fact, wherever you look, every aspect of the Founders Edition cards are designed to maximise airflow, minimize temperatures, and enable the highest levels of performance with the least possible noise.
These card-wide cooling innovations allow us to give you more performance, without a corresponding increase in temperature or noise over prior-generation graphics cards.
GeForce RTX 30 Series Hardware
The blistering performance of our new GeForce RTX 30 Series graphics cards is made possible by a combination of cutting-edge tech and over two decades of gaming graphics R&D. Here's a brief overview of the highlights; if you wish to know more, check back on September 17th for the GeForce RTX 30 Series Whitepaper, which will delve into every aspect of our new graphics cards in exhaustive detail.
NVIDIA Ampere Streaming Multiprocessors
Streaming Multiprocessors (SMs) are at the heart of NVIDIA GPUs, and our newest NVIDIA Ampere Streaming Multiprocessors are our best yet. Compared to the previous-gen SM on the Turing-architecture GeForce RTX 2080 Ti, the new SMs offer 2x FP32 throughput for superior performance.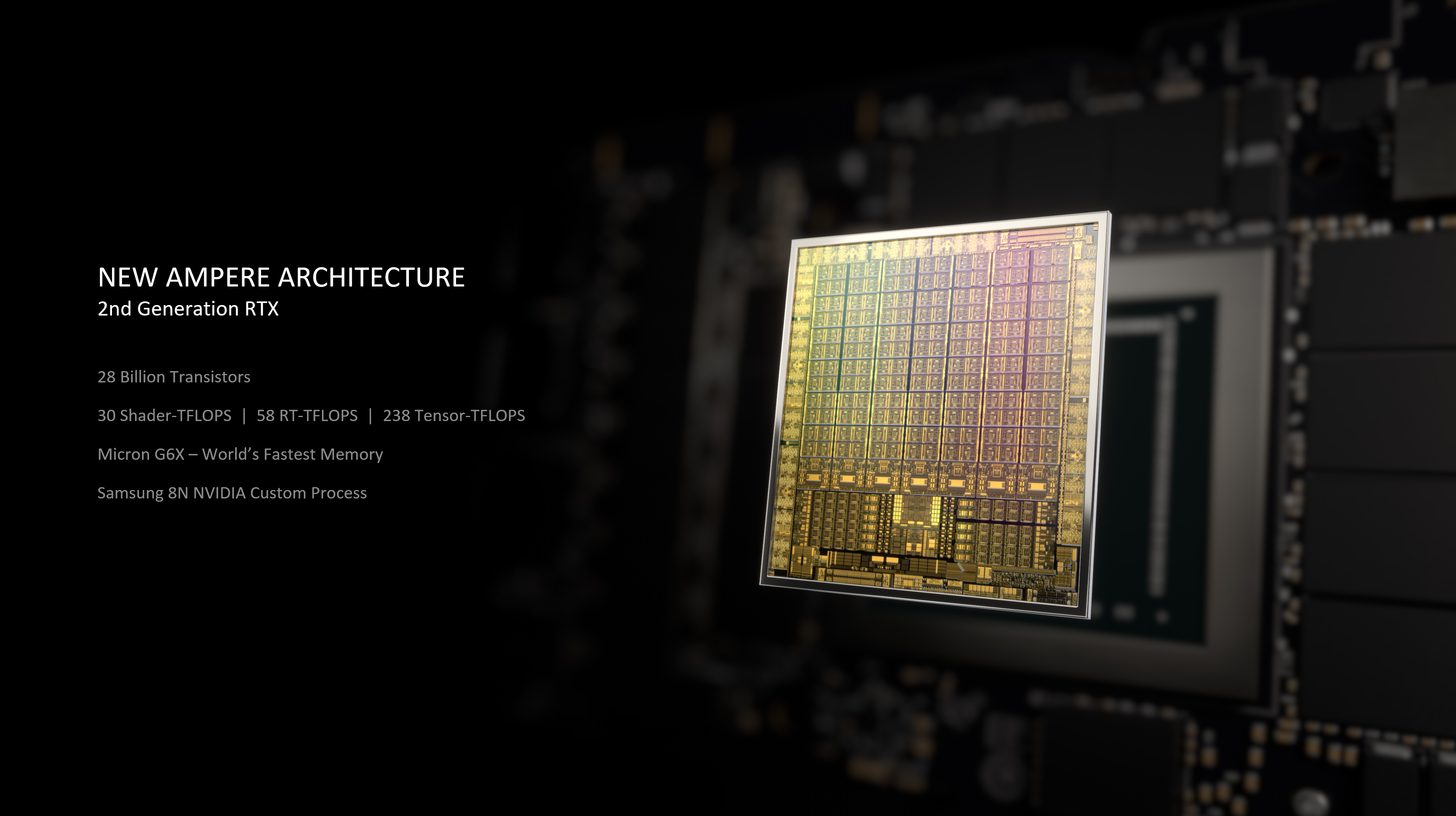 2nd Generation Ray Tracing Cores & 3rd Generation Tensor Cores
NVIDIA made real-time videogame ray tracing a reality with the invention of Ray Tracing Cores, dedicated processing cores on the GPU specifically designed to tackle performance-intensive ray tracing workloads. On GeForce RTX 30 Series GPUs, we are introducing 2nd Generation RT Cores, which have up to 2x the throughput.
These enhancements accelerate ray tracing performance by up to 2X.
To further accelerate performance in rasterized and ray-traced games, we invented NVIDIA DLSS, a deep learning neural network powered by dedicated AI processors called Tensor Cores that boost frame rates while maintaining crisp, clear image quality.
GeForce RTX 30 Series GPUs feature our 3rd generation Tensor Cores, with up to 2x the throughput of Turing-architecture Tensor Cores, making it faster to run AI-powered technologies and techniques, and opening the door to future features.
When enabled, DLSS improves performance in titles such as Control, Minecraft with RTX for Windows 10 and Death Stranding, while generating beautiful, crisp game images that are often clearer and sharper than native resolution rendering with Temporal Anti-Aliasing. And now, we're introducing a new Ultra Performance mode that enables DLSS to run at up to 8K on the GeForce RTX 3090.
GDDR6X – World's Fastest Graphics Memory
Memory manufacturer Micron is debuting its new GDDR6X memory on the GeForce RTX 3090 and GeForce RTX 3080. GDDR6X uses innovative PAM4 signal transmission technology to once again double the data rate per clock, delivering unprecedented graphics memory performance to feed the most data-hungry workloads, such as gaming, professional visualisation, and AI inference.