This dual-fan single-tower cooler has 28 addressable RGB LEDs for you to play with.
Manufacturer : Cooler Master

Model : MasterAir MA410M

RRP : £59.99



Launching today and hitting shelves in mid-June, the MasterAir MA410M expands the MasterAir family once more. Here, Cooler Master has taken the same single-tower design from the MA410P and added a bunch of extras including a second fan, plastic cladding, and addressable RGB LEDS with an associated controller too.

Conclusions :


Since we know it's based on the MA410P, the MA410M is effectively a £40 cooler with added extras. One of those extras is of course a second fan, but ultimately it's safe to say that performance is unlikely to be where it might otherwise be with a £60 air cooler, and this is confirmed by the Be Quiet! Dark Rock 4, which is better performing and has a lower noise output yet costs just £5 more.

While traditional priorities (performance and noise) can be better satisfied elsewhere, then, the RGB phenomenon can't be ignored. So does Cooler Master do a good job with it here? We'd argue that it does: The lighting is vivid and nicely dispersed, and the internal tunnel effect is rather cool. You also have the ability to control it manually through the controller or hand over to your motherboard, so there's plenty of ways to tune it to your setup.

While we suspect most users interested in a RGB-heavy build will opt for an all-in-one, the MA410M certainly takes the crown for the best RGB-enabled air-cooler. If that's what you're after, the Recommended badge below is for you, but if not, we're surprised you made it this far into the review!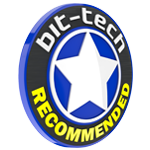 Read Review